About Judy Selwyn
Biography
After graduating from what was then the largest public high school in New York, Judy Rosenkranz went on to study chemistry at Brooklyn College. National Science Foundation Undergraduate research fellowships provided her with opportunities for summer research at Brooklyn College and then at MIT where she enrolled as a graduate student in physical chemistry and subsequently received her PhD.
After enrolling in the newly started preservation program at Boston University, Dr. Selwyn was hired out of the classroom by the instructors and she joined the consulting staff at the Society for the Preservation of New England Antiquities, giving her the opportunity to work with some of the true pioneers in the field of architectural conservation. In 1978, she formed Preservation Technology Associates, Inc. to provide architectural conservation services to architects, government agencies, non-profits and others responsible for historic properties.
Specializing in masonry conservation and historic roof restoration, "Dr. Judy" has participated in more than 1,000 projects over her distinguished career. Her projects include the Boston Athenaeum, the Old State House, the Massachusetts State House, the Isabella Stewart Gardner Museum, Harvard's Memorial Hall, Touro Synagogue and the Carnegie Museum, as well as numerous churches, public and academic buildings. Dr. Selwyn serves on MIT's Corporation Committee for the Chemistry Department and she has been a long-time member of the Brookline Preservation Commission. Earlier this year, Dr. Selwyn was honored by Preservation Massachusetts with a Paul E. Tsongas Profiles in Preservation Award.
Dr. Selwyn and her husband Lee live in a 100-year-old house in Brookline and their family includes three grown children and two grandsons.
PRESERVATION TECHNOLOGY ASSOCIATES, LLC
285 Reservoir Road
Chestnut Hill, MA 02467
617-598-2255
fax 617-277-3389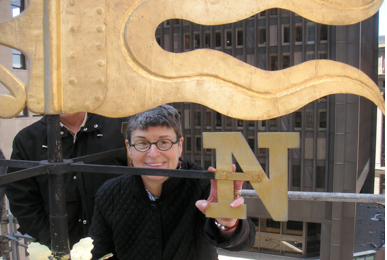 Awards
Boston Preservation Alliance names Dr. Judith E. Selwyn as the 2010 John Codman Award Winner
"Dr. Selwyn is renowned in the preservation community as a truly outstanding professional whose expertise has made many extremely challenging preservation projects technically feasible in Boston and beyond," said Sarah D. Kelly, Executive Director of the Boston Preservation Alliance.